Welcome to the Northwind News page.  For our introductory article/blog we wanted to show off one of our own personal projects that we have been working on in the last year.  We are heavily involved in the local autocross scene and have a 93 Subaru Legacy Turbo that we race.  We had already replaced the sunroof with an all carbon replacement and wanted to drop more weight off the car by installing a custom carbon/Kevlar® hood.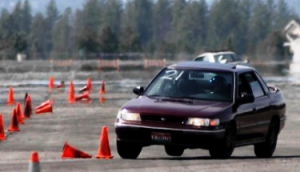 This is a picture of the car prior to the composite hood and carbon sunroof.  As we were in the middle of reestablishing our manufacturing facility, it took us much longer to complete the tooling and fabrication.
We didn't want the typical all-carbon or all-fiberglass look, so we went for a hybrid carbon/Kevlar® weave that had dyed red Kevlar.  We figured it would match fairly well once it had been cured.
The picture on the right is of the hood just after we de-molded it.
Here's a picture of the test fit before we trimmed it for all the hardware components.  We were very proud of how well it matched the original color.  The original hood weighed around 40 lbs. The prototype hood weighs 11.2 lbs with all the hardware installed, +3 lbs of clearcoat. Here's a picture of the finished assembly.
For more details see our thread on the Legacycentral BBS – http://bbs.legacycentral.org/viewtopic.php?f=23&t=54382. In the future we will be updating you on our other R&D projects as well as any other new developments.